2023 All-Skills Day Camp Registration Form, CLICK HERE
Join the University of Tampa Men's Basketball players and staff for our 2024 All-Skills Day Camp!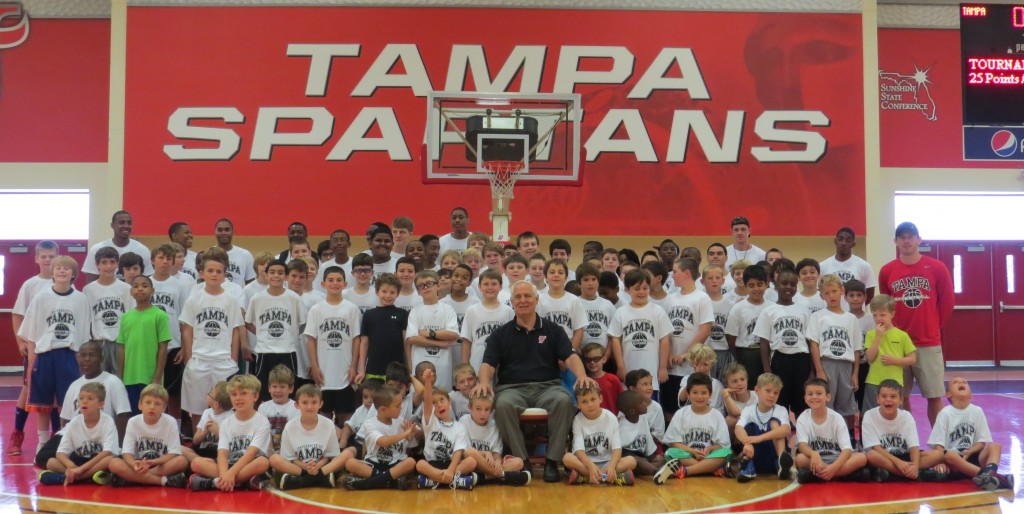 WHO:   Boys entering Grades K-9 in Fall 2024 that are looking to improve their basketball skills, make new friends, and most importantly, have fun! All campers are grouped according to age and ability.
WHAT:   Camp activities include fundamental instruction, lectures on proper offensive and defensive techniques, as well as individual and team competitions.
Daily fundamental stations
1 on 1 tournament
5 on 5 full court play
Contests including free throws, hot shot, knockout, and money basket
Special guest lecturers including current/former college and professional players
Buffet lunch each day in our gourmet, on-campus cafeteria
Awards and prizes at the end of the week
Low camper/staff ratio
WHERE:   Bob Martinez Athletic Center at The University of Tampa (400 North Boulevard Tampa, FL 33606)
WHEN:   Four independent sessions. Boys are welcome to come to any one or all sessions!
Session : May 28 – May 31
Session : June 10 – June 13
Session : June 17 – June 20
Session : June 24 – June 27
Session : July 15 – July 18
Session : July 29 – Aug 1
The camp hours are Monday – Thursday 9:00am – 4:00pm.
Check-in will take place on the first day of camp between 8:30am-9:00am. On the following days, campers can be dropped off as early as 8:30am.
Parents/Guardians are required to pick-up their campers daily at 4:00pm, and must be prepared to show proper identification.
COVID: Camp is mask-optional. A positive COVID test within 7 days of the camp start date will receive a full refund. Proof of positive test will be required. 
COST: $280, includes lunch in our gourmet cafeteria Monday-Thursday and a camp t-shirt.
4 Week Special: $1000 total if you sign up for all four weeks!
AWARDS CEREMONY:   On Thursday at 3:30pm there will be an awards ceremony. We will honor contest winners and team champions from each age division. Parents are welcomed to attend!
WHAT TO BRING:
Basketball shoes/athletic clothes
A gym bag or backpack
Money for the Camp Store
REGISTER:
Step 1: CLICK HERE to open a PDF Document of the Registration Form and Consent to Enroll Form.
Step 2: Print the forms and complete.
Step 3: Mail the completed forms and payment.
*Please make checks payable to Spartans Boy's Basketball Camp.
Mailing Address:
Spartans Boy's Basketball Camp
Men's Basketball Office
401 W. Kennedy Blvd. Box i
Tampa, FL 33606
Once we receive registration forms and deposit, a confirmation email will be sent, along with directions, parking instructions, and additional information leading up to camp.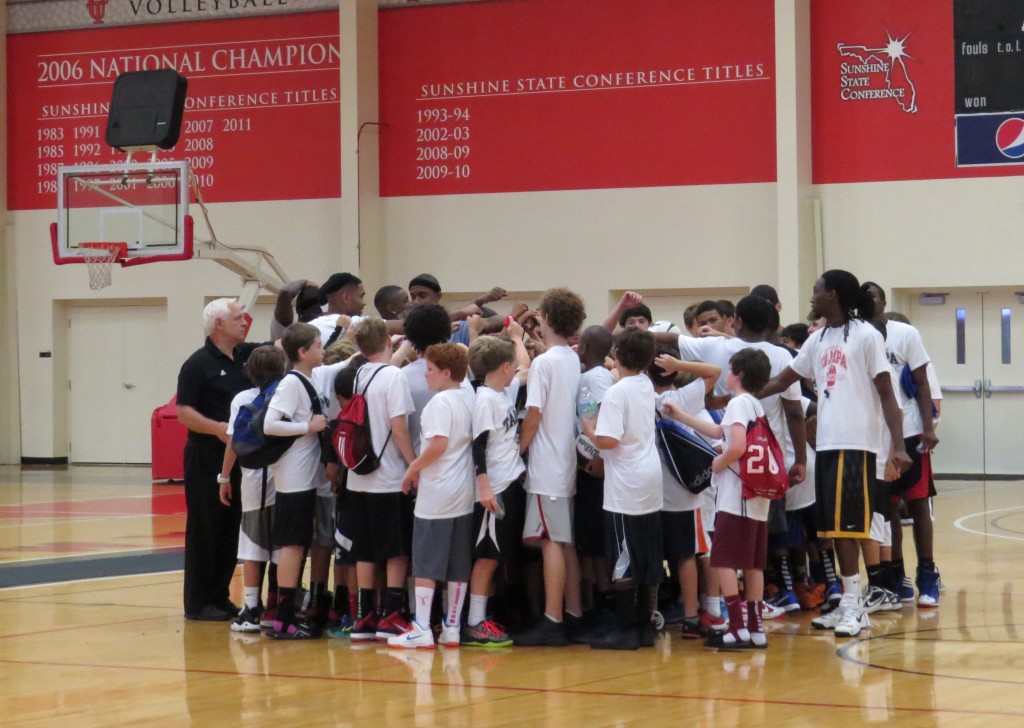 A typical day at camp will look like this:
8:30 – 9:00am     Check-in
9:00 – 9:30am     Attendance/Day Preview/Stretching/Warm-up    
9:30 – 11:00am     Offensive Fundamental Stations
11:00 – 12:00pm     Attendance/Lunch    
12:00 – 1:20pm     Contests (hot shot, mikan drill, 1on1)
1:20 – 2:30pm     Defensive Fundamental Stations
2:30 – 3:50pm     5on5 League Games
3:50 – 4:00pm     Attendance/Day Review/Dismissal
*

Supervision is provided by the staff from check-in until dismissal
*

Each camper is informed of the Camp's rules, regulations, and responsibilities upon arrival
*

The Camp will not tolerate any camper who is disruptive, destroys property, or does not conduct himself in a positive manner
*

Inappropriate behavior will result in a phone call to the camper's parent/guardian asking them to pick up their child
*

No refunds or credits will be given for camp dismissal
*

Parents/Guardians are responsible for their child's actions
***Any questions, please contact Justin Pecka at [email protected] or 813-257-3781.